I found this to be the best way to make chicken wings at home. Sriracha honey is one of my favourite flavours for this dish. It makes an excellent appetizer!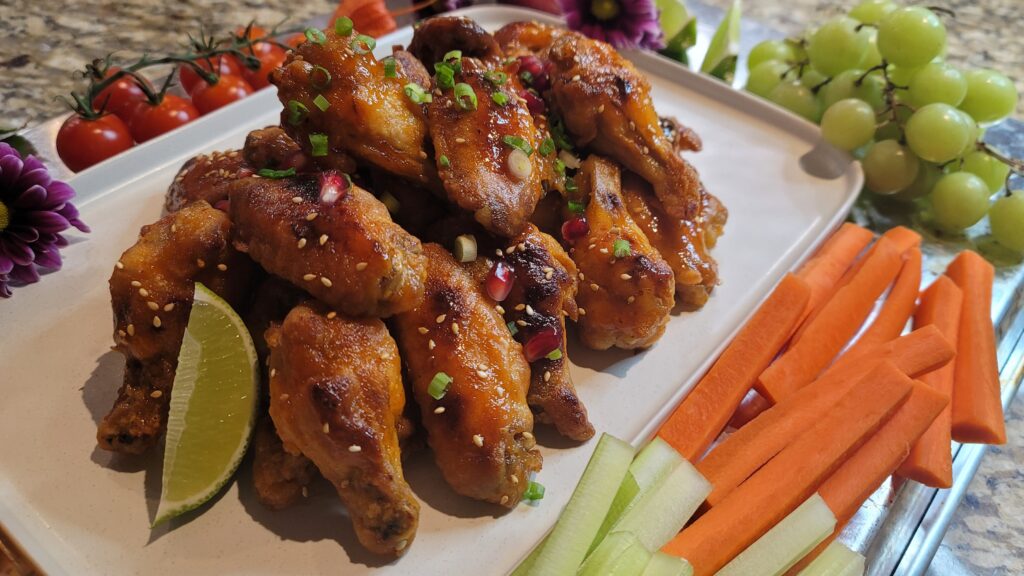 Sriracha Honey Chicken Wings
Course: Appetizer, Dinner
Ingredients
3/4 cup flour

1/2 tsp fine salt, heaping

1/2 tsp garlic powder

1/4 tsp ground black pepper

2 to 2 1/2 lbs chicken wings

1 TBSP oil

For the sauce:

2 TBSP butter, melted

1/3 cup honey

1/3 cup Sriracha

2 tsp soy sauce

1 TBSP lime juice

For serving:

Lime wedges, green onions, sesame seeds, pomegranate, etc.
Directions
Line a baking sheet with foil and fit it with wire racks on top. Lightly grease the wire racks.
Combine flour, garlic powder, salt and pepper in a large Ziplock bag and shake to mix. Add chicken wings and shake, making sure they are well coated. Remove wings, shaking off the excess flour and transfer to the prepared wire racks. Refrigerate uncovered for 1-4 hours.
When ready to cook, preheat oven to 425F. Lightly drizzle the chicken wings with oil, or better yet, if possible, use a sprayable oil to give them a light coat of oil
Bake in preheated oven for 35-50 minutes until crips and cooked through. Mine were perfect in 45 minutes.
In the meantime, combine the sauce ingredients in a large bowl. Pour about 1/3 cup of sauce into a separate container. This will be used for dipping.
Add chicken wings to the sauce and toss to coat. Place the chicken wings back onto the wire racks and broil on high for 3-5 minutes, until browned in spots but not burned. Watch closely and don't walk away during the broiling process. Remove from the oven and serve garnish with sesame seeds, green onions, lime wedges and pomegranate, if using.