Roughly mashing the baked potato and stuffing it back in the shell with a bit of butter and salt makes the texture of this delicious potato memorable!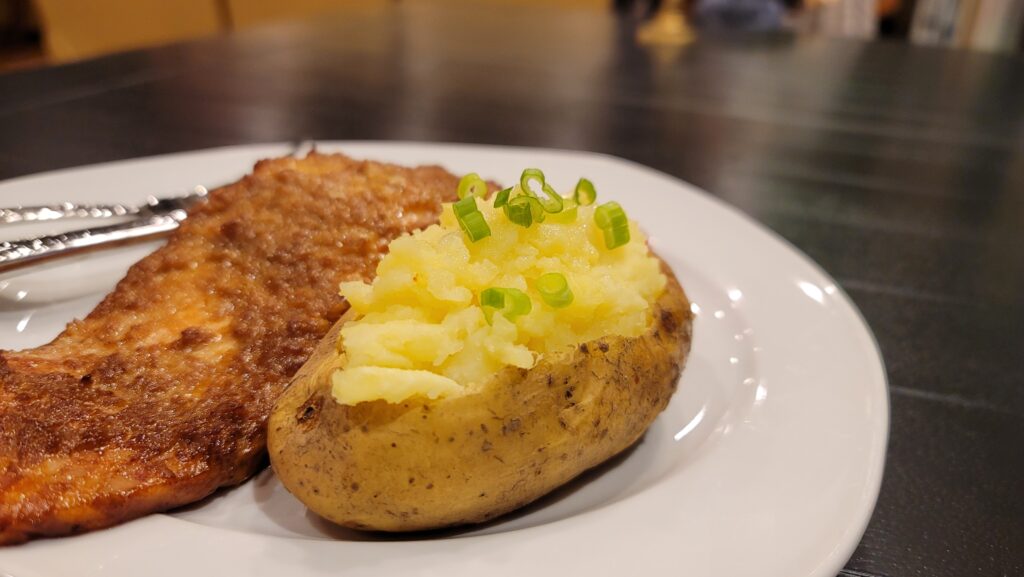 My Favourite Way to bake a Potato
Ingredients
4 medium baked potatoes

2 tbsp softened unsalted butter, and more as needed

fine salt (to taste)

Grated cheese, green onion, sour cream, sliced jalapenos, and any other toppings of choice
Directions
Preheat the oven to 375 degrees Fahrenheit. Line a half sheet with parchment paper.
Scrub potatoes under running water well. Pierce each potato with a knife at least 3-5 times, this will help with even baking.
Place potatoes directly on wire racks with prepared baking sheets under them to catch drippings. Alternatively, you can also bake them on top of the baking sheet. Bake in preheated oven for 50-65 minutes. The time will vary with the size of your potato. Start checking after 45 minutes. You want the skin to be crisp and the inside is very tender when pierced with a fork.
Remove potatoes from the oven and let them cool slightly for about 5 minutes. Cut out the tops and discard the skins. Scoop out the potato into a medium bowl and mash roughly. We are not making mashed potatoes (although we can if desired) – we are simply creating a rustic look and feel to the potato. Season with salt and fold in butter. Fill each potato with this coarsely mashed potatoes.
You can top it with grated cheese if desired, or leave it as is. Consider placing a small dollop of additional butter on top of each potato. Return back to the oven for 3-5 minutes just to warm through as well as melt cheese if using. Remove from the oven and serve with your favorite toppings.