This is an amazingly flavourful soup.
I often add white cannellini beans to my soup. Although it's not traditional, it definitely makes it even more wholesome.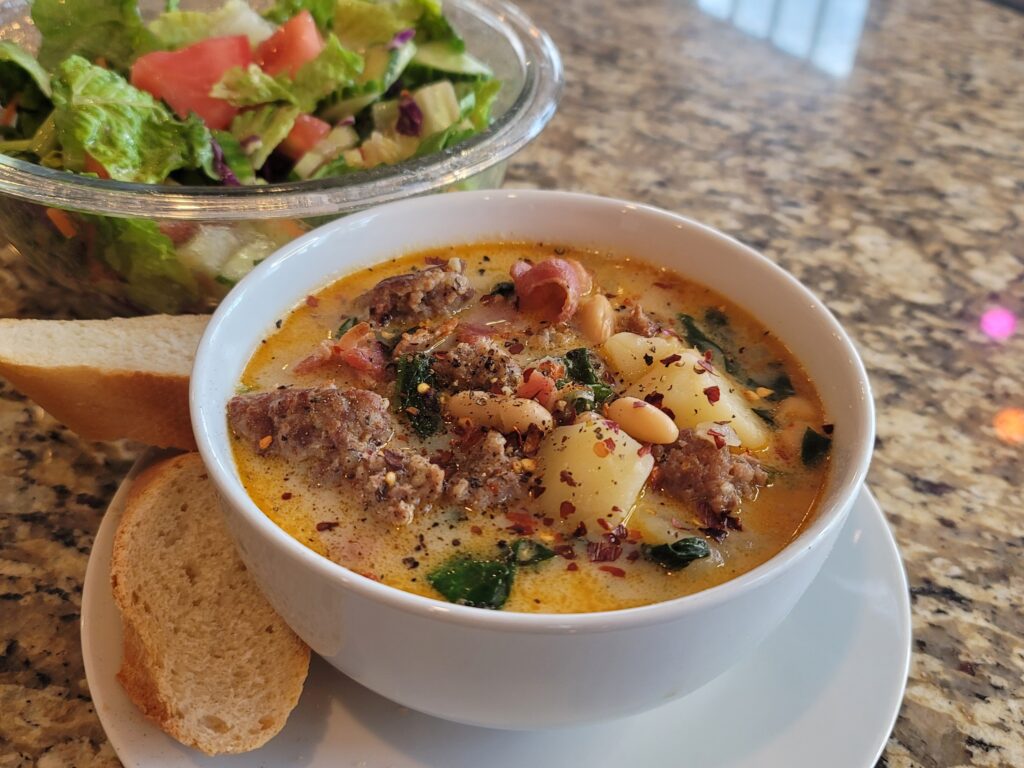 Zuppa Toscana
Ingredients
1 lb Italian Sausage

1 tsp crushed red pepper flakes

4-6 slices bacon, cut into 1/2 inch pieces

1 onion, diced

8 garlic cloves, pressed

4 cups chicken stock, plus more as needed

6 medium potatoes, cubed

1 can white cannellini beans, optional, drained

1 small box of spinach (or about 1 bunch fresh spinach, tough stems removed)

1/2 cup heavy cream or 10% coffee cream

freshly ground black pepper
Directions
In a large pot add chopped bacon and cook until browned, 5-7 minutes over medium heat. Drain bacon fat reserving about 1 TBSP fat still in the pan. Remove the bacon to a paper towel-lined plate.
Add the sausage and red pepper flakes and cook until browned in spots. Remove the sausage to a paper towel lined-plate.
Add the onions to the pot and cook over medium heat for about 3-4 minutes until softened. Add garlic and cook for about 20 seconds. Pour in the chicken stock and bring to simmer. Stir in potatoes, bring the soup to simmer, reduce heat to maintain gentle simmer and cook covered for 10-15 minutes until potatoes are tender (depends on how large the dice on the potatoes is.) If needed, additional water could be added to the soup if you prefer a thinner consistency.
Stir in cooked sausage, spinach and cream. Add the beans, if using. It's not traditional but I like the wholesomeness the beans bring to the dish. Cook until everything is warmed through, the spinach is wilted and the sausage is cooked through. Add more stock, if desired. Divide between bowls, season with freshly ground black pepper and garnish with bacon.