This is the first dinner ever that my husband asked me to make 2 dinners in a row! Cooked correctly, this seemingly simple sandwich is out of the world. And yes! We are cooking our bread slices in bacon fat. Doesn't get better!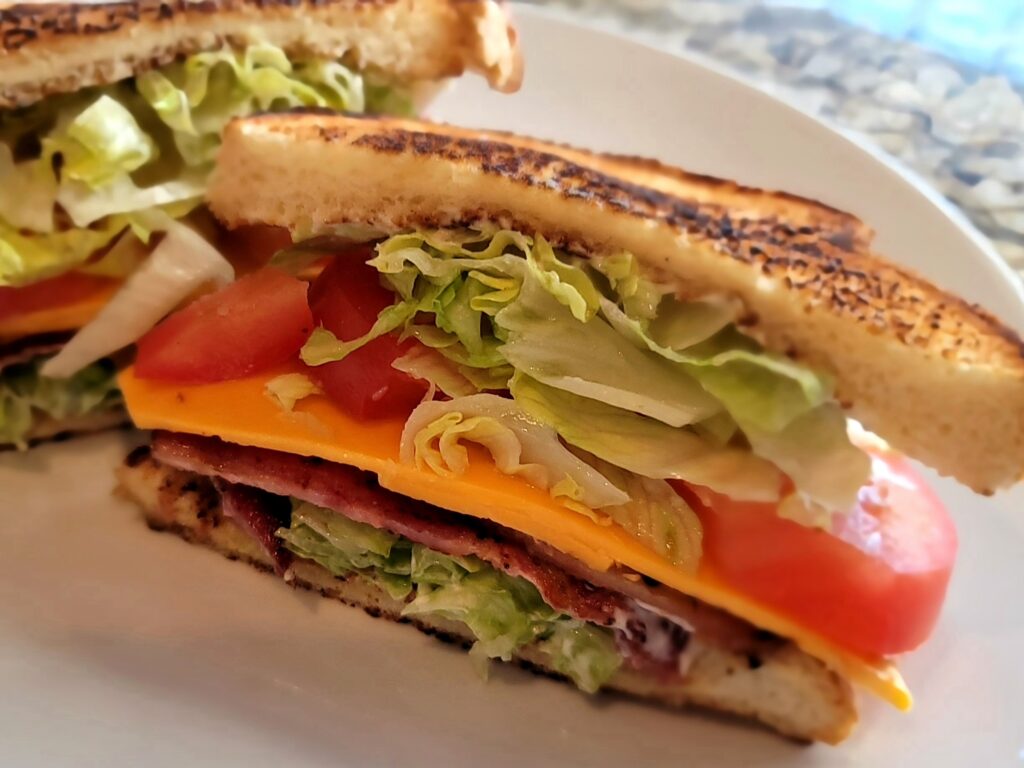 Classic BLT Sandwich with Cheddar
Ingredients
6 strips thick-cut bacon

6 slices white sandwich break, I prefer thin sliced

6 TBSP Mayo

around 6 thick slices tomato (ripe and great quality, do not use Roma)

1 head iceberg lettuce, sliced

3 Cheddar slices

Salt and Pepper to taste
Directions
Heat large 12 inch pan on medium low heat. Add bacon in a single lawyer and cook for about 5 minutes until browned on one side. Flip and finish cooking on the other side for about 3-4 minutes. Remove to a paper towel lined plate. Drain some of the bacon fat to a heat-safe bowl.
Add 3 bread slices to the skillet. Cook on medium low until browned on one side, flip and brown the other side. Remove to a plate. Repeat with the remaining bread pieces.
Spread 1 TBSP of Mayo on each bread. Layer with lettuce (likely 1/3 – 1/2 cup lettuce per bread.) Cut bacon pieces in half (you now have 12 halves) and place 4 halves on each bread (that will cover 3 breads.) Place 2 tomato slices on each remaining bread (that will cover the remaining 3 breads.) Season tomato slices with salt and pepper. Layer cheese slices on top of breads with bacon on them. Then pick up those breads and flip them on top of the tomato bread slices. Cut each sandwich diagonally into triangles. Serve immediately and enjoy!