My family describes this fresh tasting pasta salad as "Subway salad." All the crunchy fresh veggies seem to remind them of Subway restaurant chain.
I noticed that a lot of workplaces are cutting down on working from home time. So meals like this, which are quick to prepare and make excellent lunches the next day seem to be highly essential. I think we'll be adding this dish to our weekly dinner rotation. Plus it's perfect for warmer months!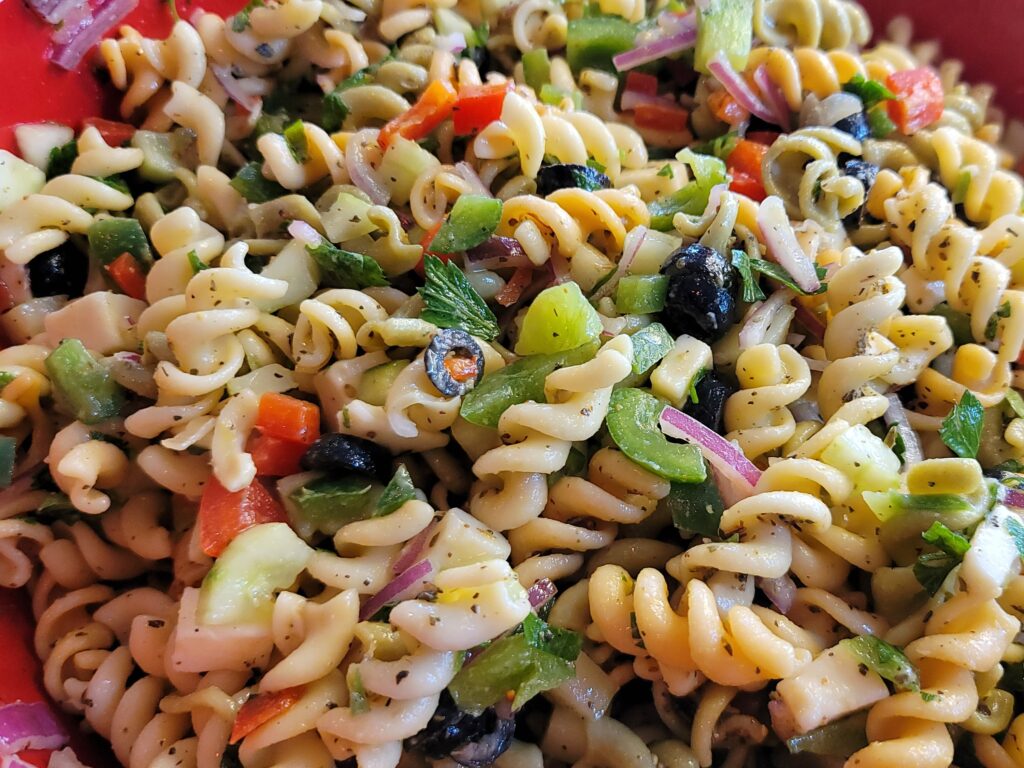 Pasta Salad
Ingredients
1 lb rotini, penne or other pasta of choice

6-8 oz Provolone cheese, cubed

1 red onion, sliced and cut into 1 inch pieces

1 cucumber, peeled, seeded and cubed

1 green bell pepper, chopped

1 red bell pepper, chopped

2 cups cherry tomatoes, halved, optional

1 6oz can sliced pitted black olives, drained

1/4 cup fresh parsley, chopped

1/4 cup Parmesan, grated, optional

For the dressing:

1/3 cup red wine vinegar

3 garlic cloves, pressed

2 tsp dried basil

2 tsp dried oregano

1 tsp Dijon mustard

1/2 tsp salt

1/2 tsp freshly ground black pepper

2/3 cup olive oil
Directions
Bring a pot of salted water to a boil. Add noodles and cook until al dente, usually around 8 minutes but check the package for instructions. Make sure not to overcook the noodles. Drain, rinse with cold water to stop the cooking process and drain again.
Combine all pasta salad ingredients, including the drained pasta in a large bowl.
Mix all of the dressing ingredients except oil together in a small jar. Pour oil in while whisking to emulsify.
Pour the dressing over the pasta salad; toss until well coated. Could be served immediately or refrigerated before serving.
Notes
Get creative with it! No need for another pasta recipe. Replace Provolone cheese with feta and black olives with pitted Kalamata olives for a Greek Pasta Salad version! Feel free to replace some of the vinegar with lemon juice (maybe up to 1.5 TBSP for extra flavours.) Or add other veggies or herbs of choice for other variations.