You won't be disappointed with these. The addition of starchy potato water makes thigh perogy dough a delight to roll out. The flavourful cheese, potato and onion filling is a classic!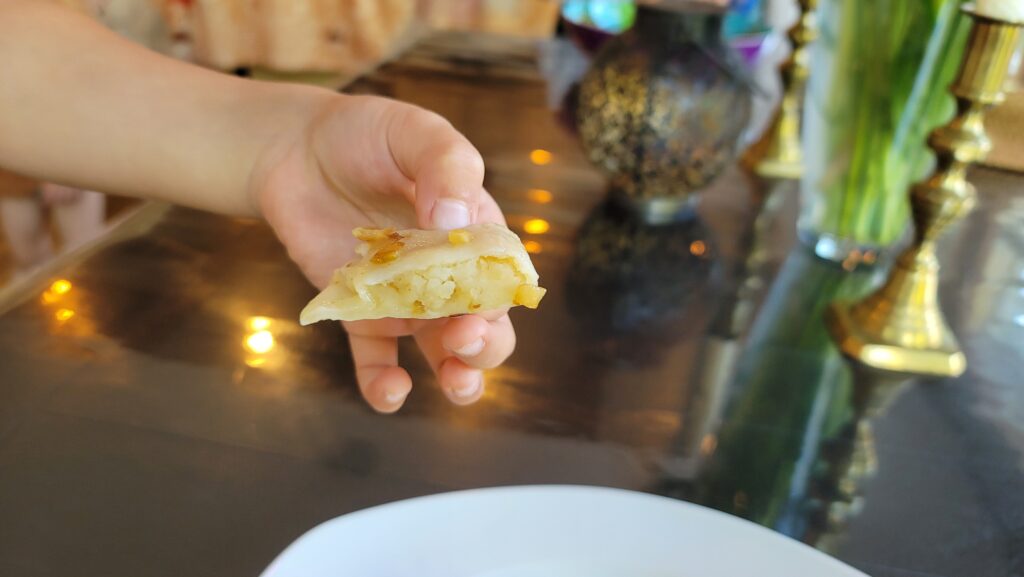 Perogies
Ingredients
For the Filling:

800 grams russet potatoes (about 3 medium), cut into 2-inch chunks

6 onions (finely chopped)

6 tbsp butter (unsalted)

salt (to taste)

For the Dough:

3 cups all-purpose flour

1 cup hot water, from boiling the potatoes

1 egg

3 tbsp oil

½ tsp fine salt (heaping)
Directions
Making the Filling:
Boil potatoes in a covered pot until very tender.
While potatoes are boiling, melt butter in a frying pan over medium heat.
Cook onions until softened and turn a rich golden color, but are not burnt or brown. Remove half of the onions to a bowl and reserve for later – this will be for serving the perogies.
Once potatoes are cooked, drain them, reserving the liquid. Mash well, season with salt, and add half of your fried onions. You now made your perogies filling!
Preparing the Dough:
Place flour into a large bowl.
Add lightly beaten egg and oil and combine with a fork.
Sprinkle salt over the flour-egg mixture.
Pour a cup of reserved warm potato water (try to get the starchiest water – as that will help your dough roll well.)
Stir with a wooden spoon well. You want to start stirring right away to avoid scrambling the egg.
Then switch to your hands and knead the dough for a few minutes. Cover it with a damp towel and let it sit for 15-30 minutes.

Assembling the Perogies:
Cut 1/3 of the dough and roll it about 2mm thin. Cut out about 5.5cm circles with a cookie cutter.
Fill each circle with a little bit of your filling and crimp the edges well forming a perogy.
Place perogies on baking sheets lined with parchment paper. You may refrigerate perogies until needed, covered.
Repeat until all the dough and filling are used up.
Another way to do this is to roll the dough into thin strips and cut each strip into pieces. Then roll out each piece. If you are new to perogy making, this option may work better for you.
Boil perogies in batches in a pot of salted boiling water for about 2-3 minutes.
Drain and serve with reserved cooked onions. Alternatively, feel free to also fry perogies in a frying pan with a little bit of butter, if you prefer your perogies seared. Personally, I really enjoy simply boiled perogies.